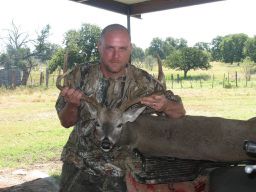 The Reardon Ranch is ready
to help you and your group
have the ultimate Texas
Hill Country experience!
Located in the granite hills of northern Mason County, The Reardon Ranch is 700 acres of beautiful Texas landscape, and deer and wildlife abound.

We are dedicated to the sport of bow hunting, meaning that the deer are truly "hunted" and every trip into the outdoors promises a thrill as you wait for that special moment to relase the bow and let the arrow seek its target. Though we are low-fenced, we have a very precise game management plan, working with our neighboring ranches, to insure that the deer population produces trophy bucks and healthy does. A quick glance at our Trophy Gallery is vindication that you don't have to have high fences in order to have Pope & Young quality bucks.

And, it's not just about deer and hunting season. We have feral hogs, raccoons, possums, coyotes and all types of other wild game. Additionally, there are a number of stocked fishing tanks with bass and catfish so that if you're ready to take a break from the hunting blind, you can prop your feet up on the banks of one of our scenic tanks and try your luck at catching a trophy of another type.

Be sure to check out our other pages for more information, then drop us a line with any questions you might have.